Celebrate Fall Flavor
Ziggi's celebrates fall flavor with customer favorites and fun new treats at stores nationwide starting September 1st.
Break out the flannel and treat yourself to the comforts of fall. Featuring pumpkin-inspired picks, bliss-fall fun sips and tasty autumn bites, there's something for everyone this season. Ziggi's fall menu is available at all Ziggi's locations (pricing and availability may vary).
Familiar Fall Flavors
Pumpkin Pie Latte
The Pumpkin Pie Latte is always in season at Ziggi's and can be enjoyed on the menu all year. Experience the cinnamon, spice-filled sweetness of this classic autumn treat. Combined with espresso, freshly steamed milk and topped with a swirl of whipped cream and a dash of cinnamon powder. This fall favorite is available hot, iced or blended and during the fall season, enjoy with sugar-free flavor.
Pumpkin Autumn Cold Brew
For even more pumpkin flavor try our new Pumpkin Autumn Cold Brew. Ziggi's Cold Brew is combined with pumpkin flavoring and topped with a whipped cold foam infused with pumpkin and cinnamon. A cool autumn treat for all the pumpkin lovers out there. Available for a limited time.
Falling for Chai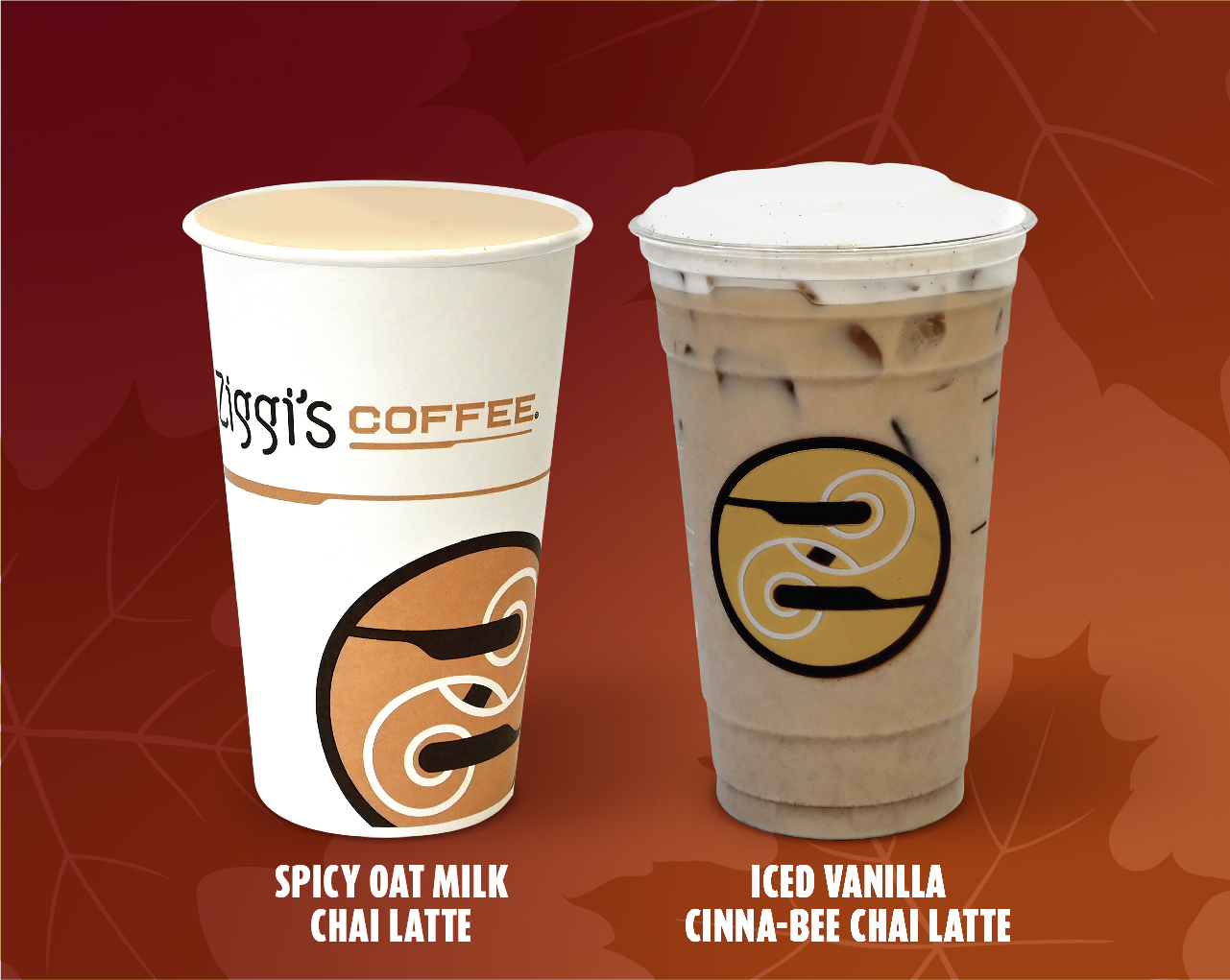 Iced Vanilla Cinna-Bee Chai Latte
Our new and delightfully sweet Vanilla Bee Chai takes an autumn twist when poured over ice and topped with a sweet cinnamon vanilla cold foam.
Spicy Oatmilk Chai Latte
Featuring handcrafted recipes from CharlieJoe Chai, we have spiced up the season with ginger, cinnamon, cardamom, black pepper, cloves and cayenne. This bold flavor of chai is then combined with frothy steamed oat milk.
Bliss-fall Fun
Candy Apple
Enjoy the crisp taste of a green apple smoothie, topped with smooth caramel drizzle. This fun and festive drink is caffeine-free, kidZone approved and available for a limited time.
Pumpkin Pie Steamer
Fall in love with the classic taste of our Pumpkin Pie Latte without the caffeine. Available on our menu all year and is kidZone approved!
Sweet Treats
Pumpkin Chocolate Chip Bread
Pair any fall sip with our seasonal Pumpkin Chocolate Chip Bread. A fall favorite combines the delicious taste of pumpkin and pairs it with the perfect amount of sweet chocolate chips.
Gluten-Free Pumpkin Bread*
Our "fall-ternative" Gluten-Free Pumpkin Bread returns! All the flavor of pumpkin without the gluten.
Caramel Apple Cake Pops
New and available for a limited time, try our Caramel Apple Cake Pop. Delicious apple cake is topped with caramel to create a treat that is both fun and delicious.
---
Enjoy all of Ziggi's fall favorites at a

Ziggi's location

near you.
*Gluten-free products are made without gluten-containing ingredients. We cannot guarantee that any products are allergen-free because we share equipment to prepare, store and serve all items.